SOCIAL MEDIA MARKETING
Organic social media marketing is dead. Paid Ads on social, done right builds more traffic, more engagement, & more sales.
Social Media is now pay 2 play. You can no longer reach the volume and audience you need to on social organically. Facebook and Instagram have shown the power of the platforms for long enough in their eyes and now want your cash for the benefits the platforms provide to businesses.
We do Ads for Facebook, Instagram, LinkedIn + YouTube
We Develop Your Brand Awareness (Followers):
Growing your followers on social media will help you increase word of mouth and referrals. Our social media marketing services will help you increase your followers with relevant people via paid ads. We will ensure that your followers match the demographics, interests, and behaviours of your typical customers. We do not sell followers. Buying followers, likes, DMs… will kill your profile.
We Build Your Relationships (Engagement):
When you build a strong connection through engagement with your audience, they are more likely to buy from you. We will help you increase engagement (likes, comments, etc.) on your social media posts via paid ads. The more engagement you have, the stronger your connection is with your audience. We do not offer organic growth. Organic growth is dead, stop wasting money on social media managers who simply cant deliver what you want.
We Increase Your Website Exposure (Traffic):
Increasing your website traffic will directly influence leads and sales. We will focus on developing social paid media campaigns that drive traffic to your website. To achieve conversions, we can add-on retargeting ads to stay in front of recent visitors. Its the rule of 7. We need to see something up to 7 times for it to stick. In this case, familiarity with your brand or business. Rarely will we impulse buy especially if it's service-related?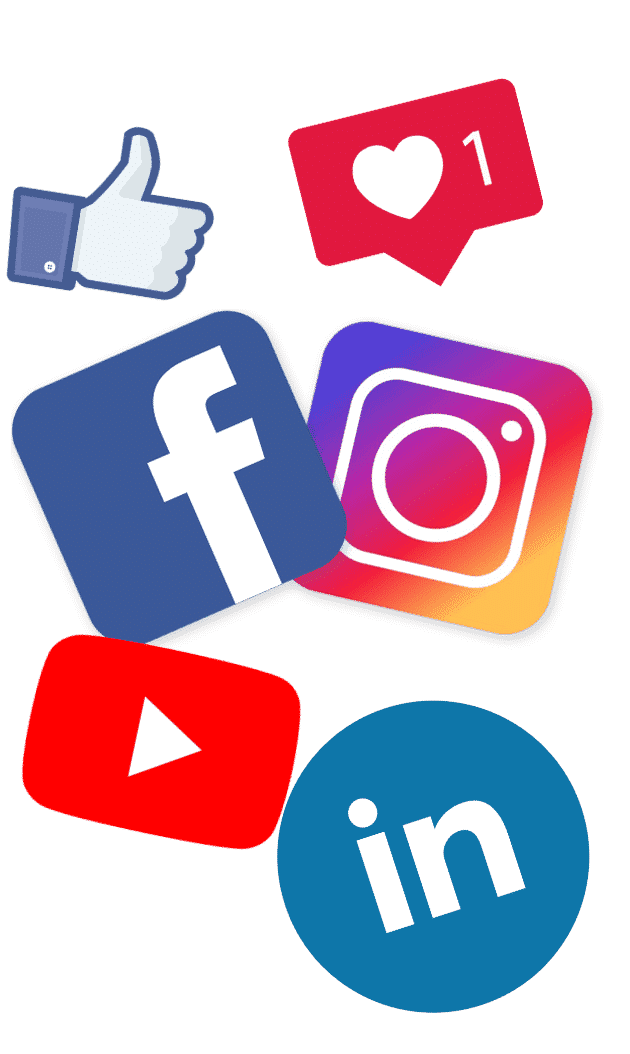 Is Social Media Marketing Right For You?
We provide realistic priced social media management services for businesses who have a monthly Ad budget only.
If you are looking for an automated lead solution for your business, social media may offer the perfect marketing channel for you.
Our social media Ad professionals can create scroll stopping content to match your campaign and business objectives.
We already know how to, and we're here to help you maintain an engaging social presence your audience will love.
Book a discovery call with us and find out
Brand Awareness
Building your presence on social media is key to success. It's where your potential customers are spending time. You need to be there!
Social Proof
Today, when people are researching who to do business with, they check for "social proof." If you don't have a presence on social channels relevant to your audience, you're losing sales.
Save Time
Constantly creating new & engaging content as well as building a community and following on social media is very time-consuming. Let us help you!
We know where your customers are
Now is the time to get on board. Let us build you a well-conceived social media strategy.
Invest in your buyers, customers, and partners. We can connect you with new and existing customers, allowing you to use your time and resources to build relationships on the best platforms for you.

Instagram
Bringing together Facebook's tools and algorithm-based newsfeed with Snapchat's playful features, Instagram's popularity continues to skyrocket among users and brands alike. Great for B2C.

LinkedIn
LinkedIn is all about professional networking: recruiting, job hunting, news sharing, content publishing and lead generation. With over 575+ million users, more than 260 million monthly users are active. Of those LinkedIn users who are engaging with the platform monthly, 40% access it on a daily basis. Great for B2B.

Facebook
With >2 billion active users, Facebook is the de facto social media marketing channel for nearly everyone and everything, which makes it incredibly attractive to businesses. Great for B2C + B2B.

YouTube
Since the introduction in 2005, the video sharing/social media site YouTube has become an indispensable advertising and marketing tool for businesses in every industry, of every size to promote their products to prospects and customers. 1.3 billion people use YouTube. Great for B2C + B2B.
Looking for Facebook Advertising?